Champion Care Inc. is the Leaders in Quality Care in South Texas For Over 23 years!
You're always a Champion at Champion Care! We are providing "Home care services in South Texas"
Champion Care Inc. is the proud Leader in Quality Home Care Services in South Texas for over 23 years.  We appreciate the trust of the communities we serve and strive to continue providing the best in Quality Care.  Champion Care Inc. is committed to exemplary care for our patients and employees.
Whether you need Short Term Care assistance to recover from a temporary setback or Long Term Care assistance to stay home instead of a facility, you want to be treated with care, dignity and respect.  You and your loved ones want to be  Safe, Secure and Happy.   That is our goal.
Our staff will 'support' you with your recovery and daily activities.  Our Home Care Attendants, Nurses and  Therapists are diligently screened, not only for the skills to perform the required duties and tasks, but also for the Compassion, Dedication and Passion to provide 'Champion Care.'
Our Home Health Care Services provide medical monitoring, Tele-Monitoring, medication monitoring personal recovery assistance and advocacy.
Be a Champion and call today 956-712-2156. We care for your family as we do ours!
We care for you like a Champion!
With 24-hour on-call services, we provide caring assistance.
We are always champion at home care for seniors also.
Loved working for this company. Friendly staff, although if you dont make conversation they can seem rather snobbish.
Wonderful staff and great company, best service in the area.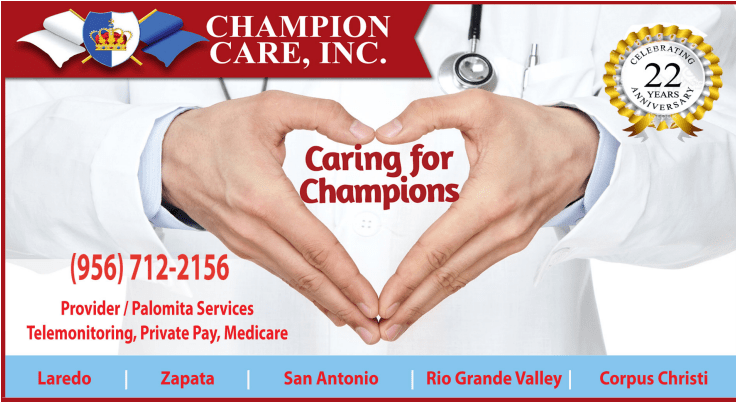 Why should you choose us?
Champion Care Inc. has been the primary provider of high-quality home care services in South Texas for over 23 years, and we are proud of our success.